Description

R High Quality Non-GMO Sweet Corn imported from New Zealand
R Naturally grown high quality Oats
R The Netherlands Non-GMO Vegan Creamer
R Contain Ireland Algae-derived Calcium
R More than seven kinds of fruit and vegetables.
R No Artificial Flavors & MSG
R No Added Preservatives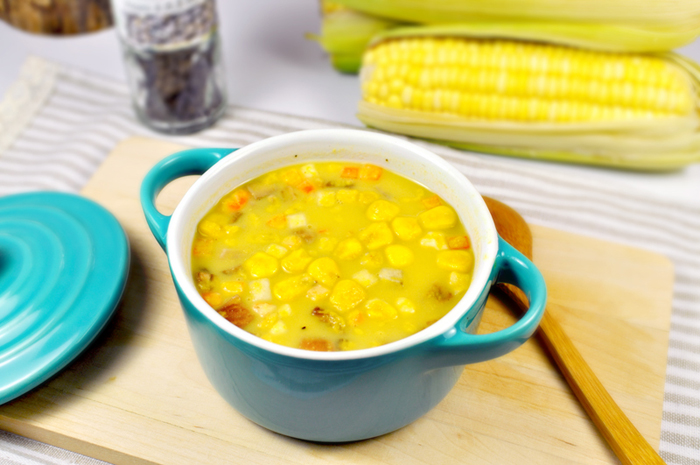 Recipe

Preparation: Pour the corn soup powder into a cup, and add 200ml~250ml of boiling water into it. Stir it evenly and let the dried vegetables soaked in the soup for 2-3mins. And it's ready to serve.


Feature

No Onions, No Garlic, Non-GMO,
■No Eggs, No Dairy, No Alcohol,
■No Added Preservatives,
■No Added Artificial Colorings




Contents

Ingredients:
Sweet Corn Flour*, Naturally Grown Oat Flour, Vegan Creamer [Glucose Syrup, Refined Coconut Oil, Vegan Emulsifier (E472e)-mono- and diacetyl tartaric Acid esters of mono- and diglycerides of fatty acids], Fruit and Vegetables Seasoning [Salt, Mushroom Extract, Hydrolyzed Soy Protein*, Brewer's Yeast Powder, Trehalose, Sweet Corn Flour*, Tomato Powder, Corn Starch*], Naturally GrownSoybean Powder*, Dried Corn*, Red Algae Powder (Ireland Algae-derived Calcium), Black Pepper Powder, Dried Potato, Dried Carrot, Dried Mushroom)
(* Non- GMO ingredients)

※Allergen information: This product contains soybean and gluten.
(The Vegan Creamer is made with Fully Hydrogenated Coconut Oil, and thus, contains no trans-fat, which is safe to eat.)

Net Wt:

250g (25g / sachet. 10 Sachets Per Box)


Best Before:Shown on the package (yy/mm/dd)
Storage:Store in a cool and dry place
MADE IN TAIWAN


Nutrition Facts

Serving Size 0.9oz (25g)

Serving Per Container 10

Amount per Serving

Calories 95

Calories from Fat 27

% Daily Value*

Total Fat 3g

5%

Saturated Fat 1g

5%

Trans Fat 0g

Cholesterol 0mg

0%

Sodium 398mg

17%

Total Carbohydrate 14g

5%

Dietary Fiber 2g

8%

Sugars 5g

Protein 3g

Vitamin A (%)

0%

Viamin C (%)

0%

Calcium (%)

1%

Iron (%)

25%

Pakage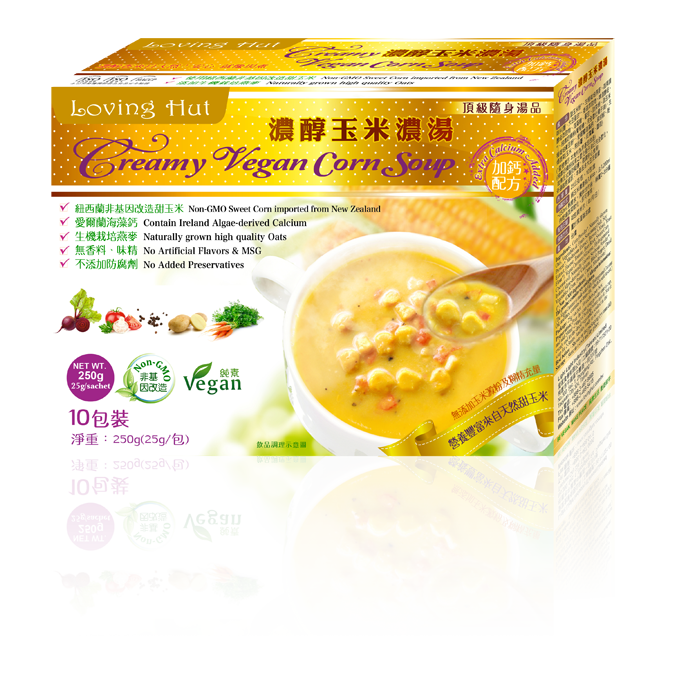 [本文分享連結] http://www.lovinghut.com/vp/33408301