Description

★Non-GMO

★No sugar

★No egg/milk

★No additives

★No preservatives

★Vegan / Vegetarian

★Made from non-GMO soybean. Integrated nutrient supply improves health & constitution.

★Suitable for all age groups. (For infants below 1 year old, please consult your physician or medical practitioner for advice before consumption).



Recipe

Mix Loving Hut cereal with some lukewarm water or Soy Beverage until dissolved before adding hot/cold water or Soy Beverage. Allow mixture to thicken before serving. Vary your drink by adding other Loving Hut Cereal products.


Feature

■No Onions, No Garlic, Non-GMO,
■No Eggs, No Dairy, No Alcohol,
■No Added Preservatives,
■No Added Artificial Colorings

■ ISO9001、HACCP、ISO22000 High Quality Certification.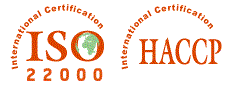 Contents




Ingredients : Soy lecithin (Non-GMO) ,soybean (Non-GMO)
Note: This product is produced in a facility that also processes soy and wheat.

Net WT.:400g±3% (14.1oz)

Preservation Period:18 months

Best Before : Shown on the can bottom (yy/mm/dd)

Storage: Keep airtight. Store in a cool dry place.

※Warning : Do not eat the desiccant silica gel packet inside

Made in Taiwan



Nutrition Facts

13 servings per container
Serving Size 1.1oz (30.8g)

Amount per Serving

Calories 107

% Daily Value*

Total Fat 3g

5%

Saturated Fat 0g

0%

Trans Fat 0g

Cholesterol 0mg

0%

Sodium 2mg

0%

Total Carbohydrate 15g

5%

Dietary Fiber 0g

0%

Total Sugars 0g

Includes 0 g Added Sugars 0%

Protein 5g

Vitamin D 0.0 mcg 0%
Calcium 43 mg 4%
Iron 2 mg 11%
Potassium 0 mg 0%

* The % Daily Value (DV) tells you how much a nutrient in a serving of food contributes to a daily diet. 2,000 calories a day is used for general nutrition advice.






[本文分享連結] http://www.lovinghut.com/vp/33408102