Description

Provide consumers nutrition, delicious, affordable and natural plant‐based food products to promote a compassionate and sustainable lifestyle.

Carefully selected black bean soy sauce with the seasonings and black peppers, definitely brings out the best flavor.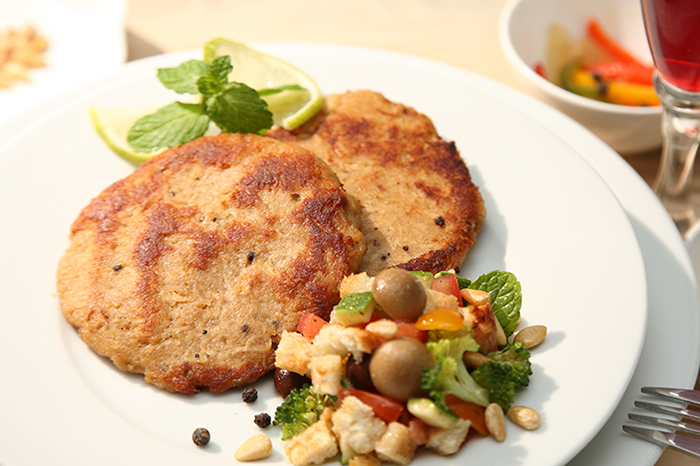 Recipe

■ Pan-fry, deep-fry, bake


Feature

■No Onions, No Garlic, Non-GMO,
■No Eggs, No Dairy, No Alcohol,
■No Added Preservatives,
■No Added Artificial Colorings




Contents

Ingredients:
Vegan Chunk (Soy Protein*, Wheat Starch, Wheat Protein), Soy Protein Isolate* ,Sunflower Oil, Wheat Protein, Brown Sugar, Vegan G Seasoning﹝Maltodextrin, Sorbitol Powder (Sweetener), Flavoring, Yeast Extract, Soybean Oil*, Medium Chain Triglyceride (from Coconut Oil), Salt, Vegetable Sodium 5'-Inosinate, Vegetable Sodium 5'-Guanylate, Hydrolyzed Soy Protein*, Disodium Succinate﹞, Fermented Soybean Sauce*, Sea Salt, White Pepper Powder, Meatless Flavoring [Medium Chain Triglyceride (from Coconut Oil), Palm Oil, Flavoring], Meatless Seasoning[Flavoring (Flavoring, Monosodium L-Glutamate, Dextrin, Starch Sodium Octenyl Succinate), Maltodextrin, Soy Sauce*, Hydrolyzed Soy Protein*, Yeast Extract, Cinnamon, Clove, Sichuan Pepper Powder, Cumin Seed, Giant Fennel, Black Pepper Extract, Giant Fennel Powder], Mushroom Seasoning (Mushroom Extract, Salt), Umami Seasoning (Salt, Monosodium L-Aspartate, Glycine, DL-Alanine), Black Pepper Powder

[ * Non-GMO Ingredient]
※Allergen information: This product contains soy, gluten, nuts and seeds.

Storage:Frozen below -18℃

Net wt:600g(21.2oz)±2.5% / 3kg±1.5%(105.8oz)

Shelf life:18 months

Best Before:Shown on the package (yy/mm/dd)



Nutrition Facts

6 servings per container
Serving Size 3.5oz (100g)

Amount Per Serving

Calories 237

% Daily Value*

Total Fat 9g

14%

 Saturated Fat 1g

5%

 Trans Fat 0g

Cholesterol 0mg

0%

Sodium 392mg

16%

Total Carbohydrate 10g

3%

 Dietary Fiber 1g

4%

Total Sugars 2g

Includes 1.7 g Added Sugars 3%

Protein 29g

Vitamin D (%) 0.0 mcg 0%Calcium (%) 8.3 mg 1%

Iron (%) 1.2 mg 7%

Potassium 18.2 mg 1%

*The % Daily Value (DV) tells you how much a nutrient in a serving of food contributes to a daily diet. 2,000 calories a day is used for general nutrition advice.

Pakage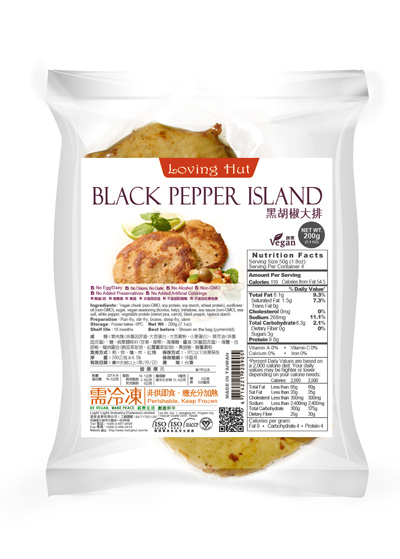 [本文分享連結] http://www.lovinghut.com/vp/31102208